The Benefits of Drinking Water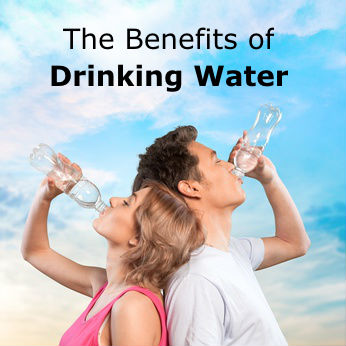 No matter how well you eat, if you aren't drinking enough water you won't be healthy. I'm always surprised by the people I meet who say they don't drink much water. They live off soda or coffee or juice and they wonder why they never feel up to par.
While there is some disagreement over how much water is necessary, a good rule of thumb is to drink eight to twelve 8-ounce glasses per day. If you are active and exercise a lot, you may need more due to fluid loss through sweating.
What if I'm not thirsty? you ask. Well, by the time you're thirsty, you're already dehydrated. If you eat a lot of fruit and vegetables, you may be getting a lot of water in your food and may not need to drink as much as those who subsist on packaged, dry foods alone. A good way to make sure to stay hydrated is to drink 16 ounces of water upon waking in the morning. This gets your body off to a good start for the day, rehydrates your body after a long period of sleep, and wakes your body up much better than coffee. You'll feel great knowing you've already consumed two glasses of water. Try adding the juice of half a lemon for a great morning start.
On the flipside, too much water can be dangerous. Many runners and hikers experience hyponatremia, a condition that occurs when athletes consume massive amounts of water over the course of a run or hike, especially in hot weather, causing salt levels in the blood to fall dangerously low. If electrolytes are not replaced, the condition can be serious. In order to avoid this, athletes should make sure to balance high intake of water with appropriate salt intake or decrease the amount of water consumed. (To learn more about hyponatremia in athletes, check out Salt and the Athlete.)
Drinking too much water can also lead to electrolyte imbalances in non-athletes. Like all things in life, too much of a good thing can be bad. It's up to you to determine your water needs based on your activity level and to make sure you are getting enough sodium in your diet, especially in hot weather when you tend to sweat more and drink more fluids.
What kind of water is best to drink? Bottled water is more popular than ever, and for good reason. Tap water often tastes bad and, depending on where you live, it can contain unwanted contaminants. If you choose bottled water, the choices can be overwhelming. Some things you might see on the bottles include: spring water, distilled water, natural artesan water, mountain spring water, alpine spring water, and more. Confused yet? Adding to the confusion is the fact that many bottled water companies have been accused of putting misleading labels on their bottles. If you're really serious about your water, do the research on each company and find out which brand is best for you.
Whether you're a health nut or a couch potato, you need water. If you don't like plain water, try adding a few drops of fresh lemon or lime juice to make it more palatable. The problem may also be the kind of water you're drinking. If you don't drink tap water because it tastes bad, try bottled water. If you don't like the taste of your bottled water, try another brand. There's no excuse for not drinking water. Our bodies are 60-75% water, not 60-75% soda. Perhaps the old saying you are what you eat should be you are what you drink.