Tomatoes and Avocados – Why You Should Eat Them Together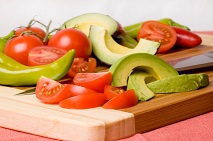 I'm an avocado fanatic and eat it almost every day. I also love tomatoes and eat salsa on a regular basis, so I was thrilled to learn about the results of a study that found that eating avocado and tomato together has big health benefits.
Researchers at Ohio State University discovered that when avocado was added to salsa, study participants absorbed four and a half times the amount of lycopene from the tomatoes.
It is believed that the healthy fats in the avocado help the body to absorb more lycopene.
Getting more lycopene is important because it has been found to play a big role in the prevention of cancer, inflammatory diseases, and age-related illnesses such as cataracts.
To reap these benefits, try these ideas:
– Add avocado to your salsa or salsa to your guacamole.
– When you make tacos, top them with both salsa and avocado.
– Put avocado in your salad and use salsa as a salad dressing.
– Make a sandwich or wrap and include both tomato and avocado.
– When making homemade pizza, use avocado as a topping.