Turmeric Milk Recipe for Cough and Sore Throat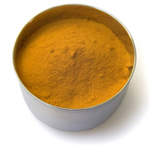 Turmeric milk is an ancient but still popular Ayurvedic remedy for cough, sore throat and colds.
The health benefits of turmeric and ginger combined with the sleep-promoting properties of milk are what make this a tried and true home remedy that will heal the body and soothe the soul.
Don't omit the black peppercorns from the recipe. Research has found that black pepper increases the bioavailablity of turmeric and helps it heal the body. In fact, one study found that turmeric and black pepper eliminated breast cancer cells when consumed together. Here's our favorite turmeric milk recipe.
Ingredients
2 cups organic milk
1 tsp. turmeric powder
1/4 tsp. ginger powder
4 black peppercorns, crushed
dash of cinnamon (optional)
honey or other sweetener (optional)
Directions
Place all ingredients in a saucepan on medium heat and bring to a boil. Simmer for five minutes, stirring frequently. Sweeten to taste, preferably with a healthy sweetener like honey or erythritol. Pour into a mug and drink hot.
This drink is great on cold winter evenings before bed!
Don't have any turmeric powder? Check out the 6 Best Turmeric Powder Brands to see what the top rated brands are before buying.