Turmeric Tea Recipe | How to Make Turmeric Tea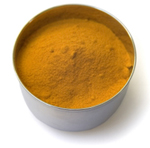 One way to reap the health benefits of turmeric is to drink turmeric tea. Turmeric has powerful natural anti-inflammatory, anti-viral, and anti-bacterial properties. Here's an easy turmeric tea recipe that you can make at home.
Drink this tea when you feel yourself coming down with the cold or flu, to help your body fight off bacterial infections, and to reduce chronic inflammation in the body.
Turmeric tea is easy to make and tastes great with a little bit of lemon or honey.
Ingredients
4 cups water
1 tablespoon ground turmeric
lemon (optional)
honey (optional)
Directions
Bring water to a boil. Reduce heat and add ground turmeric. Simmer for 10 minutes.
Strain into a mug using a mesh strainer or cheesecloth.
Add honey and/or lemon to taste.
If you need to buy turmeric, check out 6 Best Turmeric Powder Brands to see the highest rated turmeric powders by reviewers.