Tyson Chicken Loaded with Antibiotics and Corruption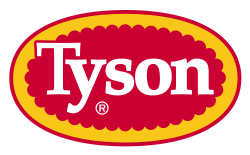 Tyson Foods claims that their chickens are raised without antibiotics. The truth is that the eggs are pumped full of an antibiotic called gentamicin and the chicks are fed antibiotic-laced feed.
Yet Tyson Foods wants to be able to keep a label on their chickens that reads "raised without antibiotics." The USDA has informed them that they can't use this label considering the little fact that it's a lie. Now Tyson Foods is suing to be able to keep the misleading label.
If Tyson is so eager to mislead the public over this issue, it makes one wonder what other deceptive practices they follow. Here's one: Tyson injects its packaged chicken full of water and salt to increase the weight while still labeling it "100% All Natural." A class action lawsuit was filed against them over this in 2001.
I don't eat chicken, but if I did I would avoid Tyson's product.
Meanwhile, the company is planning to spread its meat across the globe:
As Tyson Foods Inc. replicates its uniquely American model of corporate meat production throughout the developing world, the company could fundamentally transform rural economies in nations such as India, Brazil and China.
In the article, Don Tyson said, "We have done about as much in the United States as we can do."
Doing all they can do to lie to consumers and sell mislabeled, antibiotic-laced chickens injected with salt water? Mr. Tyson, I think you can "do" better.