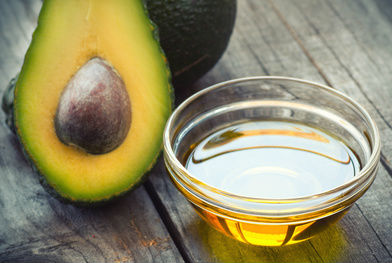 Avocado oil contains all the health benefits of avocados but, because it is in oil form, can be used in different ways than raw avocado. Here are some uses for avocado oil.
Cooking
Avocado oil has a very high smoking point (520°F), which makes it a great oil to use when you are cooking. This oil can be substituted for almost any other type of oil that a recipe may call for, and it is especially good in deep frying, sautéing, searing, and baking. Avocado oil can also be used with vinegar and some spices for a tasty, healthier salad dressing option.
Skin Health
A study done by the Department of Food Engineering and Biotechnology in 1991 found that avocado can improve the appearance and health of skin. They found that compounds in the avocado stimulate collagen production, which in turn improves the quality and suppleness of the skin. If you have skin problems avocado oil can be a great topical treatment. It can help with dry skin, psoriasis, eczema, acne, and sun damaged skin.
Beautiful Hair
Avocado oil can be applied directly to the scalp and hair in order to improve the quality of the hair and treat scalp problems such as dandruff. If your hair is breaking or falling out, try an avocado oil treatment to strengthen the hair follicles and prevent hair loss.
Use avocado externally on your skin and hair a well as in your cooking. This way you will be able to improve your health from the inside and the outside.