Valentine's Day Idea: Rose Petals in Champagne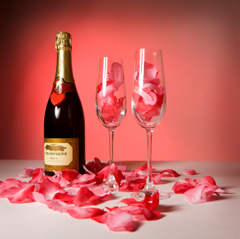 Everyone does champagne on Valentine's Day, but here's an idea that's sure to impress your loved one and show them they're special – rose petals in champagne.
Roses are edible and the petals make a beautiful and fragrant addition to a glass of champagne. Just make sure the roses are organic and not treated with any chemicals because a glass full of pesticides is far from romantic.
Here's how to do it: before your Valentine arrives at the table, fill two champagne flutes with pink or red rose petals. You can add just one petal or several.
Have a bottle of champagne chilling nearby. Light a few candles and sprinkle some rose petals around the table for added effect.
When the time comes to pop the cork on the champagne, pour it into the glasses over the rose petals.
If you and your special someone don't drink alcohol, you can put rose petals in water or your favorite non-alcoholic beverage for a similar effect. What better way to set the tone for a romantic evening?