Vitamin C for Babies and Children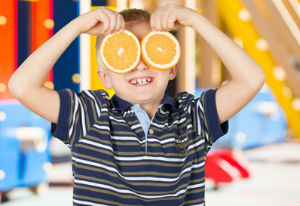 Numerous research studies have discovered that vitamin C can be very beneficial for many elements of health. Doctors recommend using it to prevent illness such as the common cold and other natural remedies use vitamin C for treatment of specific ailments. So what about vitamin C for babies and children? Here's what you need to know.
SIDS Prevention
Recent studies have been looking at the link between vitamin C consumption and SIDS. Additional research still needs to be done, but so far the indications are that vitamin C may help to prevent SIDS.
Vitamin C Supplements for Babies
Many medical professionals suggest that vitamin C supplements are not the best option for babies. So, instead of giving a child the supplements, they should be eating foods that contain natural sources of vitamin C.
Breastfeeding
Breastfed babies can get the vitamin C that they need from their mothers, so it is important that the mother is getting enough vitamin C in her diet. If the child is weaned, vitamin C can be consumed through freshly squeezed orange juice. For younger children, be sure to strain the orange juice to prevent consumption of the pulp.
If you're thinking about giving a vitamin C supplement to your children, check out 5 Best Vitamin C Supplements to ensure you're getting the food-based kind and not synthetic.