Where to Buy Jamaican Black Castor Oil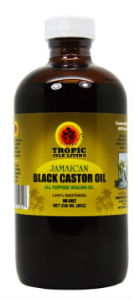 Wondering where to buy Jamaican black castor oil? It can be found in many health food stores. If you're unable to find it in a store near you, there are plenty of online retailers who carry it. It is not very expensive, with an average price of about $10 per bottle.
Big retailers such as Amazon.com
sell Jamaican black castor oil and doing a search of Google or other search engines will take you to many different company websites selling the oil. By far the most popular one on Amazon is this one
by Tropic Isle Living.
If you decide to go with another brand, you need to be aware that some unethical companies try to pass off regular castor oil as Jamaican black castor oil by adding coloring in order to make it artificially black.
If you have a bottle of black castor oil and are unsure whether it is real or fake, just smell it. Jamaican black castor oil has a distinctive "burnt" smell that is due to the castor seeds having been roasted during processing.