June 16, 2004
Life After MS
Reach for the Skies

How Sylvie's skydive for MS changed her life and brought her love.
Sylvia Brown, 32, started with symptoms of MS in 1994. Now 11 years later having discovered many ways of living with MS she now runs GYMS (a Group for Young MSers) in Sheffield, in order to convey the message to people with MS that you don't have to be a Victim to this disease. Here is my Story:
When I was diagnosed with MS I was very frightened. I thought I would soon be confined to a wheelchair and that my life would be over. I tried my best to get on with my life but the MS was always there, progressing, and whispering to me, 'You are living on borrowed time you know! By 24 my mobility began to visibly deteriorate. I could no longer hide the MS, so I decided to tell the world by jumping out of an airplane at 13 000 ft!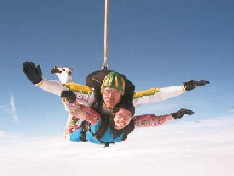 Pic: Photo of Sylvie Skydiving!
My tandem skydive for MS made front page news and raised £2000 for MS Charities. Everyone said I was really brave but to me brave was getting up in the morning and facing the world with MS! Looking back I see my tandem skydive as a turning point. I response I got from the people of Sheffield gave me the hope and courage to fight on. Six months after my jump however, finding myself wheelchair bound and in free-fall decline I knew that I had to start trying to Take Control of MS myself.
I logged onto the internet and talked with MSers from all over the world. It was wonderful, suddenly I was no longer alone! Immediately I started changing my life! I went to see a good Nutrition Consultant, and he started me on the MS Diet, based on white meat, fish, fruit and vegetables and vitamin supplements, in particular D3, to try to stabilise my progressive condition. I felt like I had nothing to lose by trying and only my life to gain.
Since this time 5 and a half years a go there have been good times and bad times with the MS but overall the MS has not progressed at all. I am gaining in strength and can even walk short distances. After a relapse I bounce back and recover naturally so although I still have MS, it is a lot more stable and I no longer live with the fear of MS.
As times goes by I am improving in my health, energy levels and functionality and though it is a long road to Recovery I am gradually achieving more and more and reclaiming more and more independance and reclaiming control over different aspects of my life again, hey I'm even planning my way back to work, through various opportunities working from home. Now that will be another real leap of faith! My tandem skydive has even lead me to finding my Mr. Right, well Mr wRight actually.
Through the skydive publicity I made friends with former pop-star from ABC, Stephen Singleton! Stephen really helped me get my life back on track by taking me swimming every week ever since! When I decided I wanted to purchase a mobility scooter he introduced me to his Uncle, Steve Wright, who runs 'Fair Price Mobility', and this lead to romance!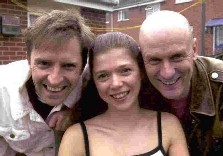 Pic: Stephen Singleton (left) with Sylvie and Steve Wright (right), the Scooterman
Yes, I bought the scooter and got the scooter man too! We are a good team and I am really proud of Steve because he is a genuine, honest man who makes sure disabled people get a fair deal by refusing to make huge profits on the scooters he sells. He really looks after his Customers!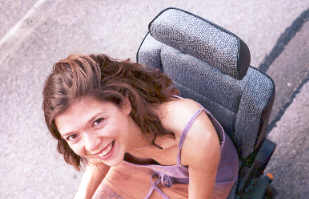 Pic: Sylvie flying by on her beloved mcooter
Fair Price Mobility:
http://www.fairprice-mobility-scooters.co.uk
The icing on the cake have been out trips out to the sunny Florida Keys with Steve, swimming with dolphins and this year I plan to try scuba diving, after all LIFE IS FOR LIVING! The sunshine is the best medicine for MS in the world!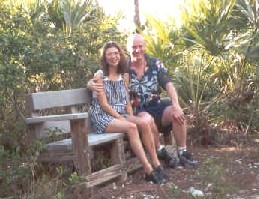 Pic: Steve & Sylvie in the Everglades, Florida.
Steve is a real man. He is also rather a nutter. He has three classic Cars, a 1959 Thunderbird. a 1958 Edsel and a 1960 Buick Electra Convertible, soon to be shipped to the UK. It is mad a great fun driving around in these cars and we can't wait for the Buick to arrive from the States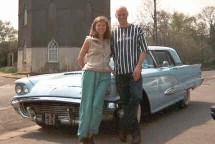 Pic: Steve with his two Birds!
You can see photos of Steve's Classic cars here:
Steve's Classic Cars
My Thoughts on MS & Diet
Without the MS Diet I dread to think what my life would have been like, had MS continued to progress at such a rate. There is overwhelming anecdotal evidence to show that your diet plays a crucial role in MS. Many people with MS like me, who radically change their diet see results. Your condition gradually improves. Many doctors have seen this for themselves.
When you study the epidemiology of MS it all adds up and even the scientific theory behind it is frighteningly plausible. I simply cannot believe that all this evidence can be so blatantly ignored. This Research Avenue has been neglected far too long and it is people like myself with MS who are paying the price! Doctors don't recommend diet for their MS patients because there is not enough scientific proof.
Nearly all the research on MS has been on expensive drugs that could net a good profit for the drug companies. There is no money to be made from research on diet So the MS Diet Group has launched a campaign to urge the government to take control of research into diet and MS. We see diet as a realistic, cheap and effective treatment for MS. It's our best hope for MS.
Details of the diet and research on which it is based can be found on the Group's website (http://www.ms-diet.net). You can also read Dr. Ashton Embry's extensive and fastinating work in this field at www.direct-ms.org. I have also set up a petition in support of the Campaign to get vital Research carried out in the field of 'MS and Diet', which already has well over 500 signatures: http://www.thepetitionsite.com/takeaction/747307120
My message to people with MS is there really is so much you can do to change your life and Help Yourself. The supplemented MS Diet is crucial, by changing your diet, alongside exercising, avoiding stress, laughing, loving or even leaping out of airplanes! I am living proof! You just have to be prepared to search and search, discover what works for you and make whatever lifestyle changes are necessary. Do whatever it takes and above all Never Give Up!
-----------------------------------------------------------------
Another mad Venture
I recently achieved another ambition! I did an Abseil off the Bristol Hotel in Sheffield on the 21st of July 2002. It was Awesome and my disability didn't stop me. I raised £1300 and the other five in the "Great Sheffield Abseil" Team raised at least another £500. The event was organised through Skyline.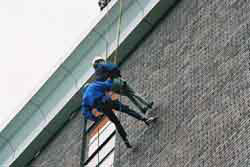 -----------------------------------------------------------------
Update: In 2003 I managed to complete my real-life Abseil! This was accomplishing my Goal of working for a living! This has been a massive leap of faith, and a goal I've been striving for for quite some time! I knew that I'd make it I just wasn't sure how or when!
Choosing to do this is certainly not the easy path. That would have been to stay on income support in the security of my little bungalow! But I wanted to move forward with my life in spite of the risks to my security and health. And when the time was right I knew I had to follow my heart and go for it!
But life was pushing me in that direction anyway. I'd put my partner Steve on the internet selling mobility scooters and the business had really taken off, surpassing all our expectations! I ended up doubling his sales. Now there is a lesson in the importance in not judging a book by it's cover! Many people think it is wonderful the way Steve has 'taken me on', and yet it in reality it is pretty wonderful for the both of us! Steve has never looked at our relationship in this way anyway and now he is reaping the rewards.
I've learnt html from scratch and gained various webdesign qualifications over the last few years, and now here I am now running two internet businesses and have a part-time job! I have successfully rented Steve's Unit in the Florida Keys out for him through the internet for most of the year. This year (2004). I have now launched a third business, a webpage selling Stairlifts:
http://www.discount-stairlifts.co.uk
However, what finally enabled me to take this leap of faith was moving into a lovely house, which Steve and I have bought together. We have set up the house so that I can manage independantly (stairlift, grab rails, scooter etc) and I am so happy here. The house is in the ideal location for me (just down the road from my bungalow) and we even have a palm tree in the garden (our mini florida!). Although it was a risk my heart told me that this way the right thing to do! And because we don't have a mortgage the goal of earning enough money to live of became achieveable.
So that is why, with the move I came off benefits. I am now self-employed and have a part-time job working on this webpage for the MSRC! My greatest problem is overdoing things. I tend to work too long on the computer and that does take it toll! But it is all so worthwhile.
When I look back it is sometimes hard to believe just how far I have come. I have gone from 20 hours care a week on income support for incapacity to total independance both physically and financially! It has taken me 6 years and fate has played a big role in how it all developed and became possible but at the end of the day I'm the one who made it all happen!
The crazy thing is I'm doing all this in spite of the fact that I do not have my full health. I do get very tired, have limited mobility and have to dash to the toilet a lot, but I'm not letting any of that stop me. My greatest lesson yet though is to really learn how to pace myself!
Thankfully though our Winter vacations in the Florida Keys keep getting longer and longer! This year we were over in the States for a full 8 weeks! The break, sunshine and daily swimming did me a power of good, and getting away gives you a good perspective on things!
This year we even went on a two week trip starting in Las Vegas and travelling 2 000 miles around the Grande Canyon and all it's neighbouring canyons in a Campervan! Although a challenge I wasn't nervous about this Venture at all and it turned out to be the trip of a lifetime! Now that was what I'd call living life to the full! I really am a very lucky lady!
Sylvie has written all about her experiences on her Webpage Life After MS: http://www.lifeafterms.com
Posted by Sylvie on June 16, 2004 2:05 AM