July 3, 2004
My crazy Treadmill Marathon Challenge
I started going to the newly opened Gym close by a few months a go. I'm so lucky because I live close to this Healthy Living centre, which is a project that is developing and has some brilliant services to offer me, the pool, the Aquagym, and the actual GYM!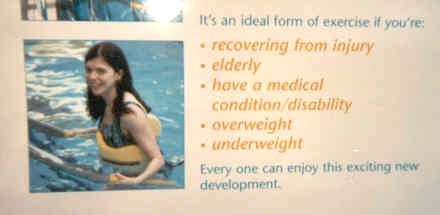 Sylvie on the Aquagym
Even better than this, I got referred to the Healthy Living Centre by my G.P., so that I can go whenever I like for a whole 6 months for free (so no excuse!), and, even better than that, I am given one to one help in the Gym. It's like having a personal trainer! Wow!
It didn't take me long to get into using the exercise machines, and on the first day I even found myself walking at a slow pace on a treadmill. I could not believe it.
Now the MSRC (www.msrc.co.uk)have been encouraging everyone with MS to set themselves their own personal marathon challenges! Not everyone with MS has the ability to run 26.2 miles (or even without MS!). But rather than feel sorry for ourselves, the MSRC are saying DO 26.2 OF SOMETHING THAT YOU CAN DO, BUT THAT WILL BE A CHALLENGE TO YOU!
You can read more about this idea by Clicking Here.
So, of course, this got me thinking as to what I could do, to not only challenge and push myself, but also to raise much-needed funds for the MSRC.
I decided to attempt walking on a treadmill for 26.2 minutes, and preferably without a single break!
To be honest with you, I have no idea whether this was achievable. Bear in mind I only did 3 minutes on my first try!
So each week I tried to build up the time I could manage. I soon realised that I had set the speed too fast at 0.7 mph, and it was the equivalent of climbing Mount Everest trying to walk for 26.2 mins none-stop, so I had to compromise and slow it down just a little.
On my third attempt though, at the slightly slower speed, I achieved my dream of walking for the 26.2 minutes without a break, and it was an amazing feeling to see the 26.2 mins pass on the clock. It was a relief too, because by then, I'd managed to get over ?1 200 in sponsorship!!!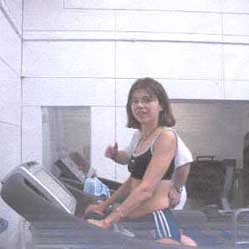 Sylvie on the treadmill
That amount exceeded my wildest dreams, and I'd just like to thank everyone who sponsored me again. You helped me to get there, and the MSRC will put every penny to good use, believe me!
My grande total is no £2 227.57! Now, that is what I call remarkable!
Till next time
Hugs & Smiles
Sylvie x
Posted by Sylvie on July 3, 2004 2:27 PM